We've talked a lot about Visitor Management in this blog. What it is, how to get the most out of a system and why an organization needs it have all been discussed.
"Great," you think. "But how do I know if any of this is actually working for anyone?"
Good point!
It's easy for us to tell you how valuable Visitor Management is, but it's a lot more beneficial to hear about actual cases where a Visitor Management system prevented an incident, saved a customer money or had some other tangible benefit.
With that in mind, we collected stories from several sites or customers using one of our Visitor Management solutions. We wanted to know how their Visitor Management installation was working and how it had benefited their site.
Their answers were eye-opening, and really show the range of benefits a good Visitor Management installation can offer.
Let these users tell you how their Visitor Management system is working
Being a security-focused company, we take the privacy and security of our customers seriously. With that in mind, we will not mention any companies by name or specific location in the anecdotes below.
We don't want to potentially compromise their Visitor Management systems by giving away too many details.
However, rest assured that these use cases are accurate, and that the stories come from actual users of IDenticard Visitor Management solutions.
1. Visitor Management helps direct hospital visitors to the appropriate location
The main aspect of a visitor badge program is to help identify visitors, usually by name. However, there's another way visitor badges can be used: to guide guests to the right place.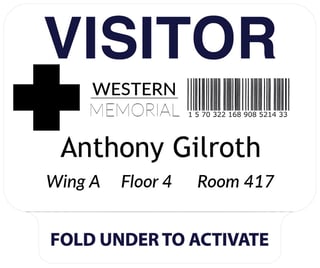 One customer of ours, a large healthcare facility, uses Visitor Management to sign-in and register hospital visitors at the front desk.
However, this facility also takes it a step further: when signing-in their guests, they connect to their hospital database and print the room number of the patient to be visited right on the visitor badge.
By taking this step, this facility is ensuring a positive visiting experience for the guest. No longer will guests have to worry about following directions to "take this elevator, then go down two flights of stairs and look on the left."
By using Visitor Management in this fashion, our customer has drastically cut down on potential confusion, has taken steps to make the guest more comfortable and has also cut down on the liability that guests wandering around the facility could bring.
Benefit: Visitor Management systems can provide an enhanced visitor experience by not just processing guests, but by also making the guest's visit a better, less confusing experience.
2. Contractor Management has helped cut down on dishonest billing
When managing a large building, working with contractors comes with an element of trust: if you don't have a comprehensive sign-in/sign-out system with your contractors, you're essentially trusting them to bill you correctly.
If you don't have a system and your contractor hands you a bill for six hours of work, you're kind of stuck assuming he or she is billing you honestly.
However, using Visitor Management, you can track exactly when your contractors began and ended work. 
That's exactly what one user of a product from our offering, a hotel in a major metropolitan area, decided to do with his Visitor Management solution.
He had been worried that he was being incorrectly billed, and began recording his contractors' time using his Visitor Management system. He then took the data he had and compared it to the bills he received from the contractors.
The result? This customer saved enough money in the first three months of correcting incorrect bills that he recouped the entire investment he made when he purchased his Visitor Management system.
Talk about return on investment!
By using his system to create a detailed, digital record of all contractor sign-ins and sign-outs, our customer had ironclad proof that he was being billed incorrectly, and was able to quickly, accurately address the issue.
Benefit: Using Visitor Management for Contractor Management helps ensure that you are being billed correctly, saving your organization money in the process.
3. Visitor Management has made it easy to capture and store non-disclosure agreements
A key part of doing business (in just about any industry) is visiting other sites, whether those sites are potential business partners or are just friendly companies working in a similar field.
With those visits, however, come concerns about snooping, prying or intellectual property theft. For those reasons, many businesses require that guests sign non-disclosure agreements (more commonly known as NDAs) prior to visiting their facilities.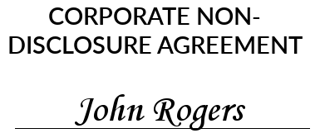 These agreements are a key part of business visits, ensuring that the guest doesn't disclose certain things, like trade secrets, prototypes or other confidential information, that he or she learned during a visit.
One of our customers, a sporting goods manufacturer, requires that guests sign an NDA prior to being admitted to their site.
While signing a paper NDA is fine, storing and cataloging all of that paper is a hassle. Physical NDAs can be difficult to track down without a comprehensive filing system, and without proof, an NDA is essentially useless.
To solve this problem, our customer used their Visitor Management system to capture a digitally signed NDA upon guest check-in. This digital signature was then associated with that guest's visitor record, providing proof that an NDA had been signed.
If our customer runs into any issues with a guest violating an NDA down the line, they'll now have a digital record of the agreement.
Benefit: Visitor Management systems can be used to capture and store NDAs, a vital part of many business relationships.
4. Eliminate language barriers by asking for a license instead
Registering guests at a facility can be a tough job, but it's even tougher at a hospital. Guests are understandably upset and anxious when visiting a loved one at a hospital, and the last thing you want to do is make things difficult for them.
However, issues occur. Language can be a barrier for certain guests, and no facility wants to turn away a guest due to not being able to understand a name.
One of our customers, a hospital on the west coast of the United States, was having issues with language barriers at their check-in desk. This hospital serves a population with a high number of English-as-a-second-language residents.
Because the hospital required guests to give their name and other identifiable information upon check-in, the language barrier made things difficult, increasing frustration for all parties involved.
Enter the Visitor Management system.
Instead of verbally asking for the guest's name and contact information, the hospital decided to scan drivers' licenses instead. This way, all of the necessary information was automatically sourced from the ID card, preventing miscommunication.
Instead of struggling through asking five or six questions, the employee at the check-in desk could now just point to a picture of a license, ask the visitor for his or her license and automatically capture the data.
While using their Visitor Management system won't completely eliminate issues that arise due to the language barrier, the automatic data capturing certainly makes things a lot easier on both guests and staff.
Benefit: Using a driver's license scanner with a Visitor Management system is a great way to capture visitor data without having to ask too many questions, and also serves as a way of confirming a guest's identity by scanning a verified government ID credential.
---
These are just four stories of success from customers using a Visitor Management solution from our product offering — there are plenty more!
Interested in becoming our next success story? Let us work with you to craft the perfect Visitor Management solution for your site.
Contact us using the button below for a free, no-obligation consultation with our Visitor Management experts. We'll discuss your needs, how we can meet them and give you insight into what kind of system you need.